by Andy Shi
War stories are Tim O'Brien's Vietnam trauma compartmentalized into stoic lists and the WWII absurdist nihilism of Kurt Vonnegut. It's a teary reflection at a military grave in Saving Private Ryan. War stories are found in the trenches and tunnels, written in blood and made indelible by death.
In Home Front Lines, we are reminded that such trauma is never limited to the battlefield and that it is not carried solely by those shouldering the rucksack. The year is 1962 and Airforce wives Betty Johnson and Lucy Saunders notice the feverish and conspicuously secretive activity exciting their Maryland Air Force base. Over a thousand miles south in Cuba, the Montero sisters watch on as more and more Soviet soldiers move in to support the Revolution. A cook for the Soviet camp, the youngest sister—Lola— one day stumbles upon a Russian missile battery and witnesses the horrible price of accidents, for such a simple mistake as a wrong turn by her driver.
As the attentions of the men turn toward those on the other side of the Florida Strait, the chance for mistakes multiply, and their wives scramble to plan to send their children away in the event of nuclear war. Their plans feel like abandonment of the husbands and fathers who fight to protect their families, but war makes calculus unforgiving on both the front line and at home. Such lines are never so easily demarcated. That's easy to forget when war stories are never about the women and their families.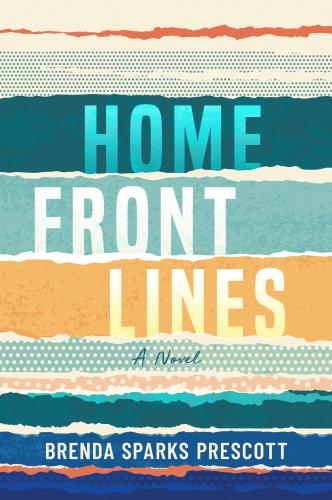 Beyond the women's perspective of war, Home Front Lines is about race as Betty and Lucy—both African-American—navigate the politics of their base. Intrigue proliferates as the fates of Betty and the base commander's wife are intertwined through events in the Pacific involving their Navy sons. News of one son's scandalous death passes into the hands of a Japanese-American journalist who bears her own scars from Hiroshima: another reminder of the civilian cost of war.
Brenda Sparks Prescott is a curator of marginal stories as the co-chief editor of Solstice Literary Magazine. After receiving her MFA from the Stonecoast MFA program and working careers in fundraising and information technology, she now draws on her family's own military history to tell the wives' story set against the backdrop of the Cuban Missile Crisis. I had the opportunity to speak with Brenda about the home front and the military spouse's perspective, as well as her own journey to publishing her first book.
Andy Shi: You come from a family with a military history that extends back to the Civil War. When one thinks of a war story, one often thinks of the soldiers engaged in battle. Why did you choose to write a story that revolves around the Cuban Missile Crisis from the perspectives of the wives on the home front?
Brenda Prescott: I have an aversion to immersing myself in the worlds of violence and aggression, so I don't have a goal to write a conventional war story, per se. However, I have been drawn to exploring an aspect of life that was significant in my family's heritage and in my upbringing. It also interests me as a route that African Americans have used to make a better life, as did many members of my family.
Within that context, Home Front Lines was inspired by the uncertain times following 9/11 and the increased threat to ordinary U.S. citizens. I wanted to think about how we might learn how to go forward in our daily lives by looking back at a similar time in our history for which we know the outcomes. I'm also deeply committed to creating narratives that portray the agency and fullness of black lives.
AS: Home Front Lines follows the Montero sisters and Airforce wives Betty Johnson and Lucy Saunders as they maneuver the lead-up to what will become the Cuban Missile Crisis. However, we do not actually see the crisis play out. Why did you decide to stop the narrative when you did?
BP: The storylines in the book follow military-adjacent insiders who are in a special position to act when they uncover the secrets of the brewing crisis. Once President Kennedy makes his televised speech, the situation changes, both in terms of military and diplomatic strategy and the loss of the need to act in secret. The localized story arc doesn't depend on the political resolution to come to a resting place, so the book ends when that resting place is achieved.
AS: With the impending crisis, the women from both sides make plans to send their children to safety, risking the ire of their husbands. Why do you think that these husbands are so at odds with their wives' plans when the wars they wage are ostensibly for the same sake of protecting their families? Did similar (if not as dire) tensions ever arise in your own family history?
BP: Are the husbands at odds with the wives' plans or is it that they live in a different world? A story about the agency of military wives set in 1962 necessarily has to address the gendered realms the husbands and wives live in and how the rules of those differing worlds might cause those tensions to arise.
I can give you one example from my family. Both of my parents were in the army when they first met—my mother was a commissioned officer in the army nurse corps and my father was a non-commissioned officer in the regular army. In other words, my mother outranked my father. Yet, when they married, she was the one that was given an honorable discharge so she could stay home and take care of babies, which she didn't do. I mean, she took care of us, but she continued to work outside of the home throughout my childhood. The issues of childcare during a time when women were expected to stay home did cause tensions.
AS: Most of Home Front Lines follows Betty Johnson and Lucy Saunders and the Montero sisters. However, we also receive a few chapters on Veronica Wills, a transgender Japanese woman. What was your motivation for including her in such a prominent role?
BP: Early on, while working on the story idea in a blank-page workshop, the instructor mistook something I read as being about military wives in Cuba. I thought, of course Cuban women should be part of a conversation about weapons of mass destruction being installed in Cuba. Then I asked who else should be part of a conversation about nuclear weapons being used against civilians, and survivors of the U.S. bombing of Hiroshima at the end of World War II answered. They had actually lived through the unimaginable destruction that was being threatened in 1962. A further question about who might, against all odds, benefit from surviving the unimaginable loss of family and city yielded Veronica, who was not able to be who she really was in her former life.
All of that is to say that I didn't set out to write a transgendered Asian woman. However, I did set out to ask hard questions and then to honor the characters that showed up to answer them by doing as much research as I could and by finding the courage to keep Veronica and others in the story when early readers suggested that they didn't belong in the conversation.
AS: Relatedly, one of the features that stands out most about Home Front Lines is the breadth of representation: Betty Johnson and Lucy Saunders are African-American, the Montero sisters are Hispanic. You are also the co-editor of Solstice, a literary journal whose mission is to provide a platform for diverse and underrepresented voices. Could you speak more to how this mission became so instrumental to your writing life?
BP: My parents were active in addressing equality and justice issues, and they taught us to always notice who is and is not in the room. I've taken that mindset with me wherever I go and to whatever I do, and particularly since I've spent most of my life in majority-white environments. In writing, that's become a focus on stories, whether my own or those of others, that explore life from differing points of view.
AS: What was the editorial journey like for Home Front Lines? In what ways does the final version differ from your original draft, and what were the reasons behind those changes?
BP: Home Front Lines started out 15 years ago with an unconventional story arc that spanned across the three sets of characters (African American, Cuban, and Japanese American). I found an agent who shopped it to most of the major houses at the time without success. The predominant feedback we received was that it wouldn't appeal to mainstream readers because of the different racial groups of the major protagonists, and that it could use some more character development. I put it in the drawer for several years and did other things.
Then a writer friend who's interested in narratives focused on military families encouraged me to revise and send out again. I addressed the feedback about structure and character development while resisting the advice to get rid of certain representations. Even so, the Japanese American story, which was originally as robust as the other two, became shorter but more focused as it now serves as a bridge in the U.S. story line. Fortunately, after 15 years, the current atmosphere is a little more open to a breadth of representation.
AS: Can you tell us more about the path you took to become a published writer, your decision to pursue a low-residency MFA at the Stonecoast MFA program, and what you have seen to be the benefits of publishing only after already having a first career?
BP: Through the many years I worked in fundraising and information technology at universities and nonprofits (with a side tour through music management), I always tried to incorporate a writing focus in my jobs. I also spent those years filling the pages of cheap notebooks and taking the occasional writing workshop until I finally committed to writing seriously and earning an MFA.
By that time I was in my 40s and not keen on pursuing a full-time residential program. I learned about the low residency model of MFA and heard about the then-new Stonecoast writing program in Southern Maine. I was admitted to the second class and continued to work full-time. Continuing my day job and attending a low residency program meant that I came out of grad school without loans to pay.
Additionally, one advantage of those early classes is that they consisted mainly of other writers who had had first careers and who brought their life experiences to our program. Many of my long-time writing relationships grew out of that program. Another benefit of being in school with the Stonecoasters and others who have come to a focus on serious creative writing later in life is the amount of wisdom and experience they bring to both their content and to their professionalism in navigating the writing life and the publishing business.
AS: Lastly, what projects are you working on next?
BP: I have several ideas brewing, but the one that I'm concentrating on next has to do with a historical fiction looking at black cowboys and/or Buffalo Soldiers in the post-Civil War era.
Andy Shi is a recent graduate from the Columbia University-London School of Economics dual MA/MSc program in International and World History.
Author photo courtesy of Justine Martin.