by Susan Sechrist
"Go Figure" is a regular feature at Bloom that highlights and celebrates the interdependence and integration of math and literature, and that will "chip away at the cult of youth that surrounds mathematical and scientific thinking." Read the inaugural feature here.
1
My mother-in-law Maura died suddenly in April of 2020. Because of COVID, my husband Tom and I were home in Vancouver when she went in for what we expected was a monumental, yet routine, surgery—a laryngectomy. Maura was anxious about losing her voice. Like so many women of her era, she'd worked hard to find it and use it—through a difficult childhood and a challenging marriage, the loss of a child, and divorce.
When she came out of the surgery, her doctors were optimistic. The nurses, now acclimated to dealing with families from a distance due to pandemic restrictions, relayed messages to us that Maura wrote in a notebook. She was recuperating and adjusting, but it would be a long road. Tom and I were anxious, too; we wanted to be there to help her but couldn't. The border between Canada and the US was locked down. The hospital in Connecticut was locked down. Maura was in a negative pressure room to ensure her safety. No visitors allowed.
A week after her surgery, her doctor called us one evening to relay alarming news: Maura had fluid building on her right lung. It wasn't COVID and it wasn't a complication of the surgery. He suspected it was a metastasis of the cancer to her lung, but we wouldn't know for sure until the pathology came back from the laryngectomy. He was going into her room to talk about the next diagnostic steps and would get back to us later that night. When he called again a couple of hours later, he was flummoxed and frustrated. Maura declined further testing or treatment.
"I told her what that meant," the doctor said. "But she told me what she wanted and she was every bit the Maura I know, fully cognizant of the consequences, clear-headed, and even smiling."
I know that smile well.
We scrambled to get family on a conference call: Maura's siblings, her children and grandchildren; her niece and namesake in Colorado. We all said how much we loved her and missed her; how much we wanted to be there. It was devastating and gut-wrenching. It was goodbye over a smart phone from 3,000 miles away. When the nurse came back on the line, she told us Maura was unconscious, but that didn't necessarily mean she didn't hear us.
The last call we got was around 10 pm Pacific time.
2
When Norton Juster's The Annotated Phantom Tollbooth came out in 2011, I pre-ordered the book for Tom. It was his childhood favorite. When we first met 20 years ago, we talked a lot about formative experiences. We were older adults, extricating ourselves from messy, complicated personal relationships and looking to commence new lives. We connected over what we were like as children, looking back to take some solace and guidance from our 10-year-old selves. As our relationship deepened, we toyed with outcomes, including marriage and even children. We would have a boy and a girl. We named the boy Milo, after the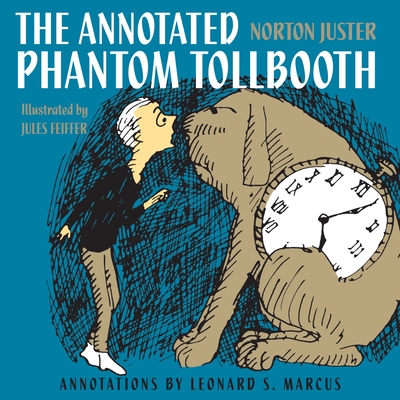 hapless but charming protagonist in The Phantom Tollbooth, and the girl Robin, because I always welcomed the first bird of spring. Then we decided that the girl would be Milo and the boy would be Robin. And, we would give them middle names to honor the bravest elves in The Lord of the Rings: Milo Glorfindel… I threatened more children with names from my favorite childhood book, Watership Down: Robin and Milo would be joined by Hazel, Fiver, and Bigwig.
We lived together for over ten years before we got married. We didn't have children but shared our household with an insane tuxedo cat lovingly nicknamed Stinkerdoodle. The cat got all kinds of other names, none of them remotely literary.
I gave Tom The Annotated Phantom Tollbooth for his birthday. It's a wonderfully weighty hardcover, with the original story and drawings laid out like the 1961 edition but nestled into a large format landscape with wide margins chock-full of illuminations in editor's blue ink. (As a former compositor and proofreader, I remember the days before digital publishing, of typeset galleys and paste-up wax and mechanicals, stat cameras and magic blue pencils). The notes in the margins include Juster's and illustrator Jules Feiffer's personal anecdotes and insights about the book's inception and creation. The edges of the book also contain comments on the book's reception, cultural history of its many topics, and academic references on everything from the modern industrial city, the teaching of mathematics, the advent of the electric car, John Cage's minimalist musical performances, and more. The book is a vast network, a complex system of inspirations that created the story and its influence as a node in literary history. But all we did when the book arrived was leaf through it, marvel at the elaborate glosses and glyphs, and stow it on a bookshelf for another time.
We moved the book along with a thousand others from upstate New York to Vancouver three years ago. It spent a few months in a box until we finally unpacked everything, and then it took its place back on the shelf, still unread. We both adjusted to life in Canada. Tom got a new job as an advisor for a technology company while I acclimated to a doctoral program in Interdisciplinary Studies as a mid-life student. A year-and-a-half in, COVID struck. The university sent everyone home to work from their dorms and living rooms. Tom's job required travel to client sites in the United States, but with the border closing, that was no longer possible. His company, thankfully stable and flexible and empathetic, helped employees adapt to the new normal of Zoom meetings and remote work.
Early on in lockdown, Maura made and changed plans for her surgery. She was worried about how she would communicate; she was uncertain about whether it was safe to be admitted to the hospital. Her doctor strongly advised her to do it sooner rather than later—the coronavirus was making it more and more difficult to

secure beds. She postponed the surgery for two weeks. When she finally went in, none of her anxieties had really been resolved. Resolution only came later when she was faced with a more profound decision.
Maura had made her wishes known: cremation, no religious services, and a big party in the future when it was safe for everyone to travel again. Tom flew to Connecticut in June to clear out her apartment in the independent living complex she had lived in for the last five years. The complex was relaxing the move-in restrictions and needed the space to accommodate incoming residents. We spent a day mapping his route from Vancouver to Hartford through provinces and states that were not having COVID surges, so that he wouldn't be required to quarantine when he landed. We loaded him up with KN95 masks and gloves and sanitizer.
He came home to a two-week mandatory quarantine in the apartment, bringing with him some boxes of his mom's stuff to help us reminisce and grieve, but most of Maura's life was in storage back in Connecticut. When the COVID crisis was over, we'd go back with Tom's brother and cousin and properly sort through all of her things. We're still waiting to make those plans. Maura's ashes are in storage at the funeral home.
3
It was Tom's idea. A way to create new intimacy in our over-familiarized, quarantined space.
"Let's read The Phantom Tollbooth together," he said.
For me, it would be all new. I'd never read the book. I knew about it, understood it was a portal fantasy, a young boy's adventure into words and numbers: a scholastic adventure. It's a hero's quest: Milo returns to his real world with a new appreciation of how rarefied and worthy it is; the mundane is transformed into the magnificent, thanks to his new appreciation of the intellectual tools at his disposal.
Every few days, we'd sit together on the couch, the heavy book spread across our laps. We took turns reading the chapters out loud, trying not to glance at the tantalizing marginalia at the story's edges. We'd decided to save the annotations for a second read in the future.
The Phantom Tollbooth is the perfect subject for Go Figure. Juster celebrates the obvious interconnection of mathematics and language when Milo meets the jester of Digitopolis, the Dodecahedron, a character with a face for every emotion. When Milo bristles at the thought of numbers as important, a defensive gesture I recognize from my most math-phobic moments, the Dodecahedron shows how words and numbers together create an intricate, infinite puzzle of meaning well worth noodling over:
"Is this the place where numbers are made?" asked Milo as the car lurched again, and this time the Dodecahedron sailed off down the mountainside, head over heels and grunt over grimace, until he landed sad side up at what looked like the entrance to a cave.

"They're not made," he replied, as if nothing had happened. "You have to dig for them. Don't you know anything at all about numbers?"

"Well, I don't think they're very important," snapped Milo, too embarrassed to admit the truth.

"NOT IMPORTANT!" roared the Dodecahedron, turning red with fury. "Could you have tea for two without the two—or three blind mice without the three? Would there be four corners of the earth if there weren't a four? And how would you sail the seven seas without a seven?"

"All I meant was—" began Milo, but the Dodecahedron, overcome with emotion and shouting furiously, carried right on.

"If you had high hopes, how would you know how high they were? And did you know that narrow escapes come in all different widths? Would you travel the whole wide world without ever knowing how wide it was? And how could you do anything at long last," he concluded, waving his arms over his head, "without knowing how long the last was? Why, numbers are the most beautiful and valuable things in the world…" (pages 176-7)
It was the image of narrow escapes in all different widths that made me laugh out loud. I turned to Tom to share my joy in the simple pun and its surprising ramifications. Hidden in plain sight was this extraordinary relationship between words and numbers, a wonderful pair of guardians to help a child confront the confounding world, to provide comfort by inspiring curiosity. Whenever Milo is befuddled or frightened or unsure, these plays on words shine a light. Clarity comes with a clever witticism while purpose blossoms from the literalization of a metaphor or the figuration of a mathematical truth. For Tom, re-reading the story was a delightful and nostalgic moment, recalling when he was a boy and when he first met Milo. I understood now why he identified so deeply with the story. In every pun and turn of phrase was Maura's Irish wit and love of language and willingness to play. We recognized her in every silly character Milo met along the way. We felt her presence and heard her voice as Juster praised the whimsical and the absurd as a way (maybe the best way) to challenge difficulty by embracing its strange, inherent joy.
4
On the anniversary of Maura's death in April this year, I was in Indiana helping out my dad, who recently turned 90. I talked with Tom over the phone that day and sent him photos of his mom that I had stored on my computer. It seemed strange to still be coping with crisis at a distance, to be Zooming our memories and emotions.
We have yet to re-read The Annotated Phantom Tollbooth and take in its vast library of marginal notes. Reading the story together helped us grieve the sudden loss of his mother, but also put us in touch with what endures. Now, I think, reading the annotations will return us to a wider sense of community made by the story's creators and its lovers. As the world opens up again, so do we, newly vaccinated to protect not just ourselves but others; newly empathetic to other people's challenges and difficulties; and newly appreciative of what we can accomplish when we are separated together. Separated together: that's not a figure of speech; it's the inspiring absurdity that has helped so many of us take a season of loss and hardship and uncertainty and find the sweet rhyme and pure reason in it all.
Norton Juster's obituary, from Publisher's Weekly, March 9, 2021.
Susan Sechrist is a freelance technical writer and PhD student at the University of British Columbia, striving to better integrate her creative and mathematical sides. She published her first short story, the mathematically-themed "A Desirable Middle," both in Bloom and the Journal for Humanistic Mathematics.
Illustration by Jules Feiffer.
Feature image courtesy of Tomovox.