As the news rumbles about future matters electoral and the Federal Government declares the end of the COVID-19 Public Health Emergency, we revisit our conversation with Elise Engler on her book A Diary of the Plague Year: An Illustrated Chronicle of 2020. Lisa Peet spoke with Engler in December 2021.
By Lisa Peet
Time is always a slippery thing, even under the best of circumstances—and recent years have hardly been the best of circumstances. The past year has been punctuated by some degree of hope: a new presidential administration in the United States, widespread vaccination rollout, and a degree of economic rebound, offering at least a bit of respite from panic. But 2020 was a blur punctuated by spikes of horror, an epic story with too many dark details to make sense of.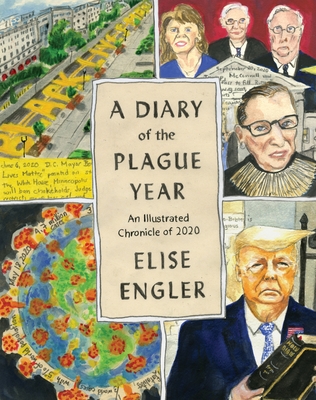 A chronicle of that year may not be for everyone yet, but as I read through Elise Engler's A Diary of the Plague Year: An Illustrated Chronicle of 2020, out January 18, 2022, from Metropolitan Books, I felt a kind of relief: Here's what happened, and yes, it was every bit as bad as I remembered. Engler's graphic journal chronicles the daily headlines of 2020—plus a few memorable weeks at the beginning of 2021—in a series of mixed-media paintings done in real time, as the news unfolded. Her gaze is dispassionate and at the same time intimate, with a wry sense of humor where appropriate, and the resulting book is a detailed record of a deeply strange year.
Too soon? I don't think so. I found myself riveted as Engler's account of the year unspooled, even though, yes, I know how it ended. The chance to revisit the incidents and events of 2020 as they erupted, disappeared, re-emerged, and accrued meaning offered a way to own the story. Look at what we made it through—and what a remarkable achievement it was for those of us still here (with all my respects to those who are not).
Engler, a New York–based visual artist, has captured the world around her through a wide range of projects, from Tax-Onomies (2003–08), which pictures five years of U.S. tax expenditures—including weaponry used in Iraq, 30,000 civilian and military casualties, and the contents of a fire engine and an NYC virology lab—to animated documentation of Engler's time with scientists in Antarctica as a recipient of the National Science Foundation's Antarctica Artist and Writer's Program Grant. The 6″ x 109′ A Year on Broadway depicts the entire 252-block length of Manhattan's Broadway.
Her most recent completed project, Diary of a Radio Junkie: 1,827 Days of Waking Up to the News, is a series of small, mixed-media works on paper depicting and responding to every day's headlines between November 2015 and January 2021. The images, which Engler posted daily on social media, caught the eye of Metropolitan Books' Riva Hocherman, who proposed turning the project's final 12 months into what Metropolitan calls "an accidental yet extraordinarily original and indelible record of an extraordinary year."
*
Lisa Peet: When did you start the practice of painting the day's headlines, and why?
Elise Engler: I'm a radio junkie, and I thought I really wanted to do something in homage to the radio. I started it on November 22, 2015, thinking that I was going to do 2016, just one year. But I started it five weeks early, because I wanted to see if I really was interested. That's often the way I work—I start something and I think, "Is this going to stick or am I going to lose interest?" If I can sustain something for a couple of months, then I say, "Okay, I'm doing this." So that's why I started in November. The reason I wanted to do it for a year was because I had just finished another project that took exactly one year, and I liked that schedule as a beginning and an end.
And then of course in November 2016 the world went through some upheaval, so it was like, I can't quit now. And it just kept going.
I was going to go till November 22 [2021], which would have been the exact five-year point. For my bigger project, it made sense, but for the book it really didn't. Riva Hocherman said, "Can you just go to the inauguration? It makes this book into a book." So it ended up going five years and two months.
LP: Did you always do the pieces in the morning?
EE: Yes, for the most part. There were a few occasions over the five years that I had to work at other times, because I was traveling or had other things to do, but there were also times when I got up at four in the morning.
LP: Looking back at that year now, there's such a narrative arc to it, but of course a piece of time never feels that way when you're in the thick of it. You wrote in your introduction that you weren't expecting to catalogue a drama, but it absolutely was. At what point did you look at your work and think, "Okay, this is a story, not just documentation of what's going on in the world."
EE: I think when Trump was elected, just knowing that I was going to be documenting this crazy presidency. I knew that I was going to have to continue until Trump was gone—I mean, if he had been reelected, I don't think I could have kept going. I just would have been too disheartened. But then, there became a kind of story on steroids when the pandemic hit. It was multiple plagues.
LP: And how did the project become a book?
EE: The way one dreams. God, do I hate to give credit to Facebook, but the editor saw my drawings on Facebook and she contacted me. She sent me three emails and the last one said, "I promise I'm not a stalker." It was like, wait a minute—are you sure you don't mean Eve Ensler? But yeah, it was rather miraculous. I think it was May 22, almost halfway through 2020.
LP: Did the publishers have any kind of stipulations about how they wanted you to treat the work as you went, or did you have carte blanche to just keep going the way you were?
EE: Nothing was ever said to me about changing the work in any way. If I posted on Facebook, I think [Hocherman] would like it. I knew she was watching, but I didn't feel any kind of control [from her]. I still had to write a proposal, and I had to get an agent. It still had to go through the process of becoming a book—she really had a great vision. I had a project, she made it into a book.
LP: Have you always been a working artist?
EE: Always. I feel kind of lucky that way. I didn't have to go through that agonizing of what am I going to do when I grow up, even though it's not always easy being an artist. But it's nice to know what you want to do.
LP: Did you have a traditional arts education?
EE: I grew up in a household that was very politically conscious, and I grew up at the end of the Vietnam War, so I didn't want to be in school. I took classes at the Art Students League and worked, but I learned anatomy—I studied with Robert Beverly Hale, who was a fantastic anatomist. He was the first curator of contemporary painting at the Met, and he was a great storyteller and a real renaissance man. Eventually, I felt like I needed more education, so I sort of backed my way into Hunter College and got an undergraduate degree there, and worked in the printmaking studio and in painting, and then went to graduate school, had a teaching fellowship to go to Bennington.
LP: What artists inspired or influenced you?
EE: Florine Stettheimer. She's definitely one of my muses. And Philip Guston. Marsden Hartley, Sassetta.
LP: How about writers?
EE: I'm an eclectic reader. I read a lot. I try to keep up on contemporary fiction, but that's kind of a losing battle. I'm in a book club like everybody else, and we read classic fiction. So right now I'm reading Jude the Obscure—it's like, oh, God, why are we reading such a depressing book? I like to read everything by an author, so I read all of Henry James at one point. I've read all of Virginia Woolf. I read everything about Bloomsbury.
LP: You say in your introduction that you felt the work change during 2020. Could you talk a bit more about that?
EE: Previously, most of the time I felt like an outside observer—even though as an American, as somebody politically involved, I was affected. But when the pandemic hit, it was right there. The news became about me and everyone around me, as opposed to about them. It was in my head, in my house. The pandemic took over our lives, so instead of being somewhat of an outside observer I felt myself to be in a kind of vortex. And in the drawings, some of them, you could see that—the virus as a sphere also became that vortex.
LP: The way you used the virus model as a graphic device was so well done. Sometimes it was almost whimsical, but of course it wasn't whimsical at all, because it's such a threateningly iconic symbol.
EE: It's entered a lot of artists' work, I know. There is something cartoonish about it and it's even pretty sometimes. At the same time, it's so insidious that you don't want to be flip about it. But there it is.
LP: What was your process like? Did you work from any kind of template, or did you just figure out the layout as you went along?
EE: No templates. I jot down the headlines on a piece of paper, listening to the radio, and to Amy Goodman on Democracy Now!. I would go online and take lots of screenshots of whoever was the main character in the headline or whatever was the main scene. And then I would sit at my drawing table with my iPad and just draw from looking at the iPad.
At the beginning, the initial project was to draw from the very first headline I heard in the morning. So they were really mundane. I had these things about deer sterilization, or local New York politics—not that that's mundane, but the scale was quite different. The longer I did it, I couldn't be absurd anymore, because there was too much at stake. And it also was much more interesting to draw what mattered.
Also when it first started, it was one headline per day. That changed the day Trump was so rude to John Lewis, and it was the same day that Ringling Brothers was shutting down. It was like this circus—it was so horrible, Trump was so crude. And then I looked up Ringling Brothers and there was this picture of cavorting elephants. Elephants! It's like, oh my God, this is a gift. So that's when I started having multiple headlines, in 2017.
I would put in my preoccupations, certain areas of interest. I am a cyclist, so every time there was a bike crash on the streets of New York and somebody was killed, I would include that. And certain places—I spent time in Antarctica as an artist in residence, so if there was Antarctica news, I liked to include that. That was my curatorial power, picking the news. But I tried not to leave out anything that I thought was earthshaking.
There's a relationship between the other things that I've done and this, which is the element of time. The Broadway project was about exactly one year. And the Antarctica project was about being in a place for just two months and trying to do as much as possible.
LP: Do you feel as if you have a better perspective on the news cycle as you've gotten older—seen what elements of history repeat, and what's unique to this particular time?
EE: Oh, definitely. I think maybe I can pick out what matters a bit more, because over time certain things are going to be just a flareup, and other things are going to have a lasting effect. I think having lived longer, one can sort of suss that out somewhat. I kind of had a sense that those things would come back, maybe because I do have some kind of historical perspective.
LP: In addition to the content, I'm interested in the visual choices you made. Your portraits of people aren't caricatures and they're not photorealistic—they're a bit impressionistic. But you can always tell who the subject is.
EE: I learned how to draw in a very traditional way. I learned anatomy and I studied very conventional, realistic painting. So I have a certain amount of drawing skills, but I'm not used to drawing portraits. It wasn't something I had much occasion to do. But after doing William Barr, I could do Barr in my sleep, and I could catch his expression just from doing it over and over again. I did so many portraits.
LP: And I really like the way every so often you use just a single image—the California wildfires, or when Ruth Bader Ginsburg died. It's so effective.
EE: Some of those days I just thought, I can't really do anything else. This is a singular image. Nothing else is as important today as this.
LP: I'm curious why some were done in black and white.
EE: In the beginning, they were all painted. Then in 2018, I got West Nile virus. I actually could barely see for a few days, and I didn't want to stop doing this project, so I have a few days where I only did these very light pencil drawings. That opened the possibility that I didn't always have to paint, that some of them could be drawings, so it actually turned out to be very positive because each day I would have all these choices—this feels like a black-and-white day, this feels like a color day. Occasionally it was also "I don't have a lot of time, I've got to do this quickly, so I'm going to make it pencil." But usually the choice was more aesthetic than time consideration, because I figured out a way to make time.
LP: Did you ever go back and redo a day?
EE: No, it wasn't part of the rule—you know, you make these rules for yourself. Also the thing is, I posted every single day on Instagram and on Twitter, so I couldn't go back. I also would tell the reporters that I used their story. It was kind of fun—these NPR reporters all over the world would be like, "Oh, she used my story today."
LP: Did you ever feel burnt out on following the news cycle so closely?
EE: I think it actually really helped me. I was up at MacDowell during the inauguration in 2017, and I remember sitting at the dinner table with everybody, and people were like, "Oh, God, I don't know what I'm going to do. How can I keep making art? I can't keep doing what I'm doing." And I didn't have to make that decision. I felt kind of fortunate that it was just a natural keep going.
Lisa Peet is Executive Editor at Library Journal and a card-carrying bloomer herself.