by Lisa Peet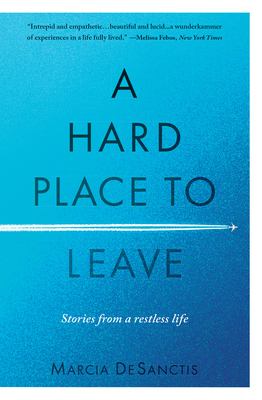 Marcia DeSanctis has been a broadcast news producer, journalist, and travel writer for Travel + Leisure, Vogue, The New York Times, and BBC Travel, to name a few. She's also an award-winning essayist who uses those opportunities to navigate places both far-ranging and deeply interior: the push and pull of home and family when away; the lure of being somewhere else when domestic life gets too quiet; the need for solitude, movement as a way to figure out what you're doing; the alarm bells of getting older.
The pieces in DeSanctis's recent debut collection, A Hard Place To Leave: Stories from a Restless Life (Travelers Tales), are pulled from a decade of writing and span 40 years of experience and inquiry, from a 1983 Moscow hotel room to an iron-fisted gorilla in Rwanda to a pit stop for dreamy chocolate toast in southern France, with intimate pictures of home—married life, aging parents, growing children—woven throughout, and a very charming (trust me) detour into a Prague men's room. They're honest, warm, and thoughtful, and—as all good travel writing should—made the armchair traveler in me a little itchy to get on the road to somewhere
Lisa Peet: Your collection feels relatable to both a reader who might be a world traveler and also someone who wants to take those journeys via the written word. It hits both notes, especially right now in the time of COVID, when more of us staying put than would like to be.
Marcia DeSanctis: I love that take on it. I always think, oh, this will inspire all you travelers. But you're right—you don't actually have to travel to travel.
LP: This is clearly not a book that a younger person would have—or could have—written. Why did you choose to put this collection together now?

MD: I had just finished a memoir, and it was the very beginning of the pandemic, and I found that I just didn't have the concentration to break it wide open and start editing it, to say nothing of finding another agent and all that. The pandemic really did a number on my concentration, as it did for everybody. A friend of mine, Lavinia Spalding, is the editor of The Best Women's Travel Writing anthology series—I've been in the last six of them. I sent her a bunch of submissions, and she said, "You know, you really should do a collection." And I said, "A collection of what? Just my travel stories?" She said, "Just think about it."
My first byline was in the year I turned 50. I had a decade worth of essays. I thought this might be kind of a good stopgap in one way, but in another way to say something about a decade of writing, what the stories were at the beginning and what the stories have become, my evolution as a travel writer, and as a writer as well. I wrote all kinds of essays, but I did find that the theme of leaving and staying, coming and going, entrances and exits was very prevalent in my writing.
LP: I loved that it wasn't just "Get on a plane, go go go." You did a good job of setting up that tension between being home and being away, and considering why you travel.
MD: Travel isn't the answer to everything, but it can be the answer to some things, and I think travel is always a quest of some sort.
The stories I ended up choosing all had a lot of movement in them. I was always picturing myself moving, on a train or in an airport. And then, when I come back home, those are sort of palate cleansers to bring you into a very still place where things are quiet, doing the things that I do as a mother and a wife and a homeowner.
The stories span almost 40 years, but they were all written in the last 10 years. I was thinking about these things, these little kernels, these grains of sand, that had kind of scratched away at me for a while that I wanted to address in an essay. And I wanted to put in obliquely how I started to be a writer and a travel writer was that I was just frequently dreaming of elsewhere.
LP: Did you work on the more personal essays at the same time as the travel writing paying assignments? And if so, how do you compartmentalize?
MD: I'm always working on essays. Very frequently essays are the things that happen between the lines, the story behind the story. It's funny, I was just in Iceland for a month, and I spent one week on assignment running around for Travel + Leisure, just a terrific assignment. And I've written that story. But there's also an essay I'm going to write about being in Iceland in winter that isn't about where I stayed, or the amazing chef, or this incredible journey. It was more about being incredibly alone in the wildest winter. A trip is never just a trip for me. I always try to get a couple of stories from it.
LP: What's your writing and researching like on the road? Are you taking notes, writing stuff on the back of matchbooks, sitting down every night and dumping it all in a file?
MD: All of the above. I trained in hard news—I write everything down, I record every conversation. I pick flowers and put them in my notebooks, I save napkins, I get everybody's name and email. I over-prepare and I over gather, because I always think you can never have too much information. I have many notebooks. I do lots of recorded conversations. I really like to write with my five senses, so my notebook is filled with what was the music in the background, or was there a lawn mower, or an eagle screeching, and what was for dinner and how did it taste, and how was I feeling? Did I have too much champagne the night before? Was I scratching from mosquito bites?
LP: When you're back home with all these notes and journal entries and memorabilia, what's your process like then? Do you have an idea of what you want to do with them, or do you have to see what kind of story it is as you're writing?
MD: Let's take a magazine piece—it can take me a while to figure out what the story's going to be. I come from the world of television producing. I worked for Barbara Walters for many years, and I was one of her producers. I'd be sitting with her on an airplane and say, "Okay, this is your beginning, and that's your ending," so she knew, when she was giving the interview, what the ending of the story was going to be. I was around her a lot, so much that I'm very attuned to that, too.
I swear, I know what the ending is going to be before I sit down. I would say I struggle a lot more with the beginning. I always like to lead with an anecdote, but I don't want it to be too good an anecdote—I don't want it to be the best anecdote. But I do like to situate the reader in a place where something happens, not start with exposition. When I have the beginning and I know the ending, I feel like—all right, I can do this. But sometimes it's hard to find the thread that is going to run through the narrative.
When I was in India doing a story in Northern India by Rishikesh, I was very drawn to the River Ganges. They had arranged for us to go whitewater rafting on the Ganges, and I'm like, all right, this story is going to be about the water. It wasn't a water-born story—it wasn't about kicking the rapids in Yellowstone, or anything like that. But it was very much about why this Catholic girl from Boston was so drawn to this holy river. Sometimes I just need to identify the thread that's going to run through it so that it doesn't just seem like a compendium of wonders.
LP: Have you ever been to a place that you couldn't write about?
MD: I've never gone to a place I didn't think I could write about. I mean, there's an essay in my book from one of the most unglamorous places in the world, Waterbury, Connecticut, but I love it. I think you can find wonder and mystery everywhere. I think you can experience newness anywhere.
I will say that there's not any story in this book from Italy, and I've been there many times—it's part of my life, my father's Italian. But it's also that I go to Italy and I just always have the best time, so there's no conflict. "You can't believe the food, and oh my god this restaurant, and we discovered this little place for bread"—I don't really write those stories. You know, I wish I did, because there is a lot of that work around.
LP: I like that you're up front about not having a ton of money to play around with—your husband is a sculptor, and you're not globetrotting on a family fortune—but you find a way to travel. It's your work, and it's also a priority in your life. I'm sure you meet people who say, "Oh, I wish I could travel, but I can't afford to," or "I don't have time." What do you say when you hear that?
MD: I'm privileged and I have opportunity, but yeah, it's true. I find ways to do it. I think travel is intimidating in a lot of ways. It's expensive. You have to take care of stuff at home. And it can be it can be hard to figure out where on this green earth do I want to go? What's the pin in the globe? But when I was in my 50s I just said to myself, "I don't have any time to waste. This is what I want to do," and I did find ways to make it work. I find other ways to make money—I have a lot of private editing clients, and that finances a lot.
But I think that if there's something, some reconciliation you want to make with the universe, and you know what you are going out there to find, or you're going out there to look for, you can write a story, and you can sell that story. What's your motivation? Is this one of those things that's scratching at you that you really, really want to figure out?
LP: Did you always want to be a writer?
MD: I always wrote. I was in the creative writing program in college that you had to apply to, and I had E.L. Doctorow as my teacher, Russell Banks—some really great teachers. But it just never occurred to me that this was something that I could do.
I worked for decades as a television producer, and then I moved up to the country and was just kind of out of excuses. I was always writing and I've always kept diaries. I think, in some way, I was always keeping this record because I knew I'd come back to it sometime.
LP: Who are some of your favorite travel writers?

MD: I love some of the groundbreaking women travel writers, Freya Stark and Dorothy Carrington, who wrote so brilliantly about Corsica. I have a book that I just bought by Doestoevsky—he wrote a travel book, who knew that? I love what Ralph Potts writes, I love Mark Twain. I love my friend Don George. I really admire Lavinia Spalding—I think she is such a good writer because she's such a good editor, or such a good editor because she's such a good writer. I loved Gretel Ehrlich's book The Solace of Open Spaces. I loved Ian Frazier's Travels in Siberia.
LP: Are there other writers who influenced you?

MD: Martha Gellhorn. MFK Fisher—in many ways, she was the person that guided me through this book. So many of her stories and even her books, all this stuff is going on in her life but she doesn't necessarily allude to it all the time, or even at all. Edith Wharton's book, A Motor-Flight Through France—it's travel writing for the sake of travel writing, a book about the journey. I love certain chapters in Simone de Beauvoir's The Prime of Life. She writes a lot about like being alone, and that has inspired me a lot. My favorite book of the last years is World of Wonders by Aimee Nezhukumatathil. Also, this weekend, I finished Emily Raboteau's Searching for Zion, which left me speechless.
LP: Where are you headed next?
MD: I'm on book tour, which is which is fun. I was back in San Francisco for the first time in a long time, went to Seattle, Boston, New Orleans, Los Angeles. I'm going to Egypt in October, and I am going to Zambia, it's either going be in July or also in October. I'm trying to get back to Africa because I'll have a story to write in Zambia, and a story to write in Egypt, and now my son is there for a while, in Sudan. So that will be really interesting, because I'm sure I'll find a story there. Maybe not a glamorous travel story, but definitely an essay about seeing my son there. I've taken six international trips in the last five months—Rwanda, Seychelles, Poland two weeks ago, Ireland, France, and Iceland.
LP: You're making up for lost time.
MD: I'm also making up for lost money. I just want to write stories.
Lisa Peet is the Senior News Editor at Library Journal and a card-carrying bloomer herself.
Click here to read Lisa Peet's previous features