by Alice Stephens
In 1935, renowned psychiatrist Dr. Frieda Fromm-Reichmann flees Nazi Germany for the Washington, DC, suburb of Rockville, Maryland, where she sets up practice at the Chestnut Lodge Sanatorium. Eager to retain the illustrious psychiatrist, the sanatorium's owner allows her to build her own cottage on the grounds of the institute.
In 2009, psychotherapist Eliza Kline and her troubled son, Nick, live in Frieda's cottage. The sanatorium has been closed due to lack of funding and is being converted into luxury condos but the former wards still hang around because they have nowhere else to go. Her days filled with tedious paperwork, Eliza would like to go into private practice but she can't afford to. Besides, she has bigger worries in her son, who has been exhibiting alarming tendencies toward self-harm and pyromania. A single mother, Eliza has led Nick to believe he was conceived by a sperm donor, and must figure out how to tell him the truth, no matter the consequences. One day, Eliza comes across Frieda's journal. "For a year, Eliza had been talking to Frieda. Was it her turn to listen now? Or—was this eavesdropping? Forgive me Frieda, she whispered. I'm a therapist too. I've been telling you my secrets. I promise I'll keep yours."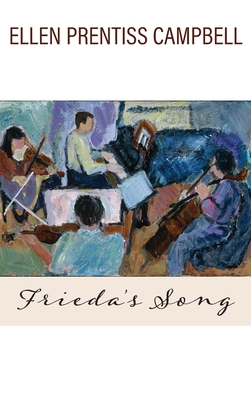 Weaving together the two stories, Ellen Prentiss Campbell's historical novel, Frieda's Song (Apprentice House, 2021), offers a tender, feminist tale of two women who must contend with society-imposed strictures, the mysteries of the human brain, and the emotional landscape of being an independent woman. Richly embroidered with period detail, exploring the competing demands of being a respected professional and a woman, and offering insight into the practice of psychotherapy and the complexities of the mind, Frieda's Song is a story of the power of love, solidarity, and above all, human connection.
Alice Stephens: Let's start with the cover, a painting of musicians playing together, and the title, Frieda's Song. Why did you choose to characterize a novel about psychology and complicated relations in musical terms?
Ellen Prentiss Campbell: Music, the creative solace of making music, is important to all three of my point-of-view characters. Frieda Fromm-Reichmann was an accomplished amateur pianist, played chamber music, and particularly loved Mendelssohn's Songs Without Words. The title of the book reflects this, as does the painting (by artist Marilyn Banner, whom I reconnected with at Virginia Center for the Creative Arts [VCCA] after many years, but that is another story). My current day psychotherapist Eliza acquires Frieda's piano, and plays from her scores. Eliza's lonely son Nick plays the theremin—"the only instrument you can play without touching."
And finally, music—the intricacies of music, making music alone, making music together—is an extended metaphor for complicated human relations, in this story and beyond.
AS: Is music one of your many creative talents?
EPC: I am not a musician, nor musical. I tinker, badly, on the piano with easy-to-play songs from musicals. I love to sing—to myself, when bicycling in Rock Creek Park. I listen to music all the time, but never when I am writing. Classical, folk, jazz, vocal, instrumental, as the mood takes me. Mendelssohn's Songs Without Words are beautiful, and a frequent accompaniment in my head, or on what I still think of as the turntable, even though it's not.
AS: You practiced psychotherapy for many years. Can you talk about the similarities between being a psychotherapist and a writer?

EPC: Being a psychotherapist attuned me to discerning both to what is said and what is unsaid, accustomed me to seeking to understand conscious and unconscious motivation—above all, to listening. Being a writer of character-driven, voice-driven fiction requires me to listen closely to my characters, to inhabit them, to speak for them. The two types of work are perfect complements.
AS: Yes, I can see that. Both require quiet observation and the ability to interpret human action. I was glad to see you address the homelessness that resulted when mental institutions like Chestnut Lodge Hospital were closed due to lack of government funding. Is there some connection we can make between the dispossession of mental patients in America and Frieda's escape from Nazi Germany?
EPC: This is question would take a lot more words to answer than we have for this interview, so I can answer only by over-simplifying.
The "other"—including, for example, the mentally ill, the developmentally delayed, the physically handicapped—is often vulnerable to mistreatment, neglect, and abuse. In my novel, Frieda fears and grieves for her endangered patients as well as her colleagues and fellow Jews left behind in Europe. We can only wonder how she might have responded, as a clinician and possibly an advocate, to some of the direct and indirect, intended and unintended, consequences of deinstitutionalization policies here in the States in the years following her death.
AS: In the acknowledgments, you write that the idea for the novel was sparked (pun intended) by a fire that burned down the hospital in which Fromm-Reichmann practiced. Please tell us a little more about that.
EPC: I lived for many years in Rockville, Maryland, just a few blocks from the Chestnut Lodge Hospital. Frieda Fromm-Reichmann truly put it on the map and practiced there during its prime in the mid-20th century. I worked at a clinic in Rockville, attended meetings at the Lodge, visited Frieda's Cottage when it was restored. And woke up to the smell of smoke the day the by-then abandoned hospital burned in a fire—and Frieda's Cottage survived. Loss and ruin, the mystery of the fire, the survival of the Cottage, intrigued and inspired me to begin what I thought would be a short story about the present-day inhabitants of the Cottage, Eliza and Nick, during and after the fire. As I wrote, Frieda's lingering presence and importance to both Eliza and Nick became clear, and she became a character in her own right—spoke to me and demanded to be included. You never know when you are writing and imagining who will show up, do you?

AS: Frieda's voice is so distinctive from Eliza's and Nick's, it really is as if she is speaking directly through you. Did you write the narratives separately, or did it flow as if they were in conversation with each other?
EPC: The narratives evolved in relationship to each other, but sequentially. First, it was a short story, I thought, from Eliza's point of view, in her voice, as a therapist, a mother. Her son Nick showed up and became a speaking, viewpoint character in his own right. Frieda was an absent presence at first, a photograph on the wall. But while I was at a residency at VCCA, she began to speak and became present, a voice through the invented journal Eliza discovers. From that point, it had to be three voices, in chorus if not conversation.
AS: As someone who grew up, and now lives, near Rockville, I loved learning about the town's illustrious history, which you meticulously incorporated into the story. I especially admired how you transported us to Frieda's 1930s era, and folded the pertinent local events of the time into the plot.
EPC: I love history, especially history that is close to places where I have lived. As a child I thought I might become a historian like my beloved great-aunt. My research process for this novel began before I ever knew I would write it. I lived with my husband and kids in an old house in Rockville, I visited other old houses in Rockville whenever one was for sale, and became involved in Peerless Rockville, the excellent historical society responsible for preserving both buildings and stories. I read, too, of course. The wonderful biography To Redeem One Person Is to Save the World: The Life of Frieda Fromm-Reichmann, by Gail Hornstein. Old newspapers. Histories of the war years in Rockville and DC.
I didn't seek to interview people, though. There's a way that I hold back from doing that—as it would be difficult for me to fictionalize stories from an interview, it would feel like appropriation, like breaking confidence (it's a way in which my therapist ethics and my writer's sensibility meld, I think, maybe to my disadvantage sometimes, but it gives a certain freedom to the imagination).
AS: You have written two short story collections, Known by Heart and Contents Under Pressure, and a historical novel, The Bowl with Gold Seams. What is next for you?

EPC: I have a new novel in progress, early stages and I'm superstitious about saying too much. But I am back in Pennsylvania this time, researching and imagining and beginning to write about a family of artists. It's my favorite kind of project: nuggets of history and lots that's not known. We'll see.
Alice Stephens is the author of the novel Famous Adopted People, editor of Bloom, and a book reviewer and columnist for the Washington Independent Review of Books.