With this selection of poetry by Tracy Youngblom, we continue our new series of original fiction or poetry by writers who either published their first book at 40 or after, or who have yet to publish a book. Writers interested in submitting work should see our guidelines.
Penelope's Confession
He won me once—twice if you must know.
Each time, forced to silence, I watched
his strength prevail, other suitors bloodied,
beaten. This was one kind of love.
When he comes to me at night now,
his sweat drips down, I taste the sea,
its briny course, and he touches me
like he's tracing it all again—his strange
routes on my skin. Under him, I hear
groans as rhythmic as ships' heaving
staves, or as waves. A name I can almost
make out, here and there.
Do you know what he'd like? Argus
alive come running to lick the salt
off his belly. I do have the hero,
the one who could save no one
but himself. I imagine the same is said
of me, though all I did was unravel,
untwist the strands. Nothing heroic.
There will be no more children.
He can write his story on me as if
on water, as if on sand smoothed by
the receding tide. To think I waited
for that very circumstance: flesh
that can't be anchored by flesh.
There's always a ship in the harbor.
I weave a kind of freedom
becoming his voyage: the vessel,
the sea, distance and danger.
The act of leaving.
🏵🏵🏵🏵
Consider Sisyphus
in winter, his machine grinding, heaving,
gorging on heaps of snow, chewing
them to bits, spitting a mist to trail
behind. Then he surveys his work,
pavement cleared but for patches.
Now for the shovel to scrape. He runs,
muscle-tough, an old man bent
on finishing the task, while new flakes
fall, never lightly but hailing,
as if all the stars had left
their heavens at once, a cold rush
to fill the prints he's made.
Then it's dead dark: sound's
deadened. His wife, peering through
glass—tapping—sees nothing:
night, years that accumulate like snow.
She's able to summon no one, only
this frosty, melting picture of herself.
🏵🏵🏵🏵
A Pint of Pure Nard
I was never a servant until marriage—
write that down. Others brought food
to the table that day. Men talked,
reclining, leaning on their elbows
like broken chairs. Hair hung down
their backs. They might have been girls,
except for their laughter—and beards.
Some joke hung in the air.
I meant to honor him—that's all.
A premonition conveyed that my saved
coins would be well spent: a pint
of pure nard, the best I could buy.
I knew my place—when the scent
rose to convict me, I cowered,
expecting to be struck.
I did later hear my story told,
Though I was never cast
in any good role. Some called me whore,
some refused to believe in me.
That's part true—no men
had spoken to me. Not so hard,
then, to forget myself, as I
was forgotten—made into
a harmless rumor—settle
into marriage, as girls must do.

My dears, I am your mother, and here
is the jug, filled with oil for our bread,
that proves I existed, once, apart
from chores and teaching you—
as marriage taught me—to conserve.
You will save yourselves some weeping
if you keep reminders too:
a veil you wove, a box that holds
your first hairs, the dream
you can't repeat. This is your task,
not men's. Don't expect it
of them. They will never break
the frames that bind their vision
nor even, if they knew them,
speak your names.
🏵🏵🏵🏵
Eve's Late Confession
How many times I've told the lie: I wept
at the sight. They think I mean the garden,
its lush profusion of scents, Adam
gasping, open-mouthed, at my damp hair,
but I was just admiring my hands,
their fan of perfect fingers, when I turned
and there he was: dazed and drooling, just
beginning to sit up. That's when I wept—
when I saw I was not to be alone.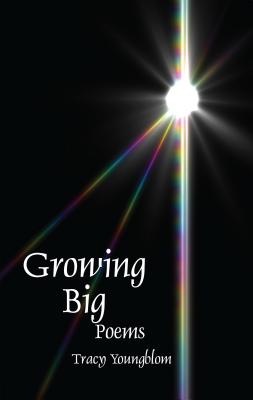 Tracy Youngblom is a graduate of Warren Wilson's low-residency MFA program. She has published two chapbooks of poems (Driving to Heaven and One Bird a Day) and one full-length poetry collection (Growing Big). Her individual poems, stories, and essays have been published in journals including Shenandoah, Wallace Stevens Journal, Cortland Review, New York Quarterly, Ruminate, St. Katherine Review, New York Quarterly, North Dakota Quarterly, Blue Mountain Review, Briar Cliff Review, The Phoenix, and many other places. She enjoys teaching English at Anoka-Ramsey Community College and working with adult students in Community Ed writing classes and in the community.