By Alice Stephens
When Muneer, a Saudi student studying in Ohio, and Saeedah, his bride who is also his first cousin, welcome a baby daughter, their marriage is already falling apart. Muneer returns home and procures a divorce, leaving his daughter, Hanadi, with her mother, who has Americanized her name to Sadie, in the US. According to tradition, a mother must relinquish her children to her ex-husband when they turn 7, but Sadie has no intention of losing her daughter to a culture she views as hostile to women. She goes underground, telling Hanadi, now Hannah, that her father is dead. Constantly moving from place to place, they evade Muneer until he finally tracks Hannah down. She is 17, and struggles to reconnect with her father, her extended family, Islam, and Saudi culture.
Eman Quotah's debut novel, Bride of the Sea, published by Tin House, is a multigenerational, transnational family saga of the search for identity and belonging while living in two disparate cultures. In her poignant story of love, betrayal, and family secrets, Quotah provides insight into contemporary Saudi society that is all too rare in American literature.
Alice Stephens: As someone who was also disconnected from the culture of my origins, I found Hannah's rediscovery of her Saudi roots very moving. Please describe what in your own personal history inspired this story of identity lost and found.
Eman Quotah: My dad is Saudi, of Arab and South Asian heritage, and my mom is white and American, and I had the good fortune of growing up in both their countries. I think growing up in two cultures is a really rich experience, counter to the stereotype of being "caught between cultures." From the age of 8 to the age of 19, I spent school years in Jeddah, Saudi Arabia, and summers in Cleveland Heights, Ohio. So, I had the benefit of living near my father's very large extended family and being raised Muslim in a Muslim culture, of learning Arabic in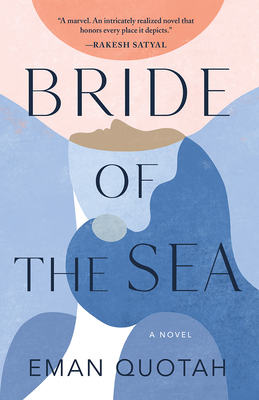 school and studying the history and literature of the Arab world. Then, coming to America where I could go to the movies (at the time Saudi had no movie theaters) and wear shorts and go to summer camp and ride my bike to the library (Saudi didn't have many libraries, either).
My novel was inspired by a family friend whose young daughter was abducted by his ex-wife. Both parents were Saudi, but the mother and daughter disappeared in America. When the father and daughter were reunited, she was grown up. I kind of imagined a whole side of my childhood being cut off. I wondered what that would be like, and then what it would be like to have a new culture and the rediscovery of a parent all thrust at you in young adulthood, when you're still struggling to figure out who you are.
AS: Bride of the Sea bravely asks the western reader to identify with a country and a culture that has been vilified since 9/11 (if not before) and is regarded by some as inimical to Judeo-Christian principles. Many readers would agree with Sadie that Saudi Arabia was no place to raise a girl. Did you find resistance from the publishing industry to your story?
EQ: I don't know if it's brave. It was hard, but I also don't see "western readers" as my only readers. I know you don't just mean white people by that, but that's often what that phrase implies. Of course, Toni Morrison was the standard bearer for not writing for the white gaze, but I've also been really inspired by a younger generation of African American, Asian American, Arab American, Indigenous, Latina/o, and other POC writers who are writing the books they wished they'd had when they were younger. I wrote Bride for my Saudi American friends, especially. I want other people to read it, of course! I think it's a story for anyone who likes family novels.
The book did take some time to find a home, and it's hard to pinpoint why. Bride is definitely not the kind of Saudi story people in the U.S. are accustomed to or expect. Just contemplating the possibility that publishing folks might be resisting the story because of their preconceived notions about Saudi — that tore my heart out. I'm really excited that the book is about to be out in the world.
AS: The least sympathetic character in the book, and the most opaque, is Sadie, who is exactly the character that most western readers would most likely identify with. Why did you choose to portray her as "unlikable"?
EQ: Let's call her difficult to like. I don't see it as a choice, really. She stole her child. That's a pretty terrible thing. If I had written about a Saudi man who abducted his child, people would for sure expect him to be unlikable. That idea was a lodestar for me. I wanted Sadie to be difficult to like, in a non-villainous way though. I hope that comes through. She's a person who makes a mistake, and we see the repercussions.
I also hope readers identify with other characters. Maybe there are readers who have a grandma whose love language is food, like Muneer's mom. Or they have a Holy Book-thumping conservative relative, like another character in the novel. Maybe they know a mixed-race, interfaith family like Jameel's. Maybe they've repaired a parent-child relationship, like Muneer and Hannah do. I don't think characters have to be "westernized" for readers to invest in them.
AS: In Jidda, as Hannah is meeting her relatives for the first time, learning more about Saudi life, and grappling with her identity, she shoplifts some items. They are small incidents in a sweeping narrative, but stuck with me. Why did she steal, which seemed so out of character for her?
EQ: She's really confused being in this new world that was supposed to be her homeland and she does things without thinking about them. The stealing might also be subconsciously connected to the fact that she was stolen. This is the period in her life when she's coming to terms with that.
AS: There are two apparently extrajudicial incarcerations in the novel, one in Saudi Arabia when Muneer is held for his journalism during Operation Desert Storm, and the other in the U.S. after 9/11 when his son is detained as a terrorism suspect. Both are eventually resolved through backroom channels. Do you see an equivalence between the two detentions?
EQ: Yeah, definitely. Growing up in Saudi, I heard about people who were detained for various reasons and then, of course, after 9/11 there were so many incidents of Muslims wrongly detained by the U.S. government. I want readers to hold both of those things in their heads at the same time.
AS: Bride of the Sea encompasses themes of identity, loss, the meaning of family, immigration, and (re)discovering the ties that bind. Swept up in the multi-generational, transnational story as I was, and reading from an American viewpoint, are there any themes that I have overlooked that you would like to mention?
EQ: I like the word migration better than immigration, and I'd add faith, history, memory, secrets, and place.
AS: This is your debut novel but in an essay you said you knew by the time you went to university that you wanted to be a writer. Please tell us about your journey to publication.
EQ: I've always wanted to be a writer, but it took me a while to figure out exactly what I wanted to write. For a while, I wrote poetry. I took a memoir class in my twenties when I probably had no business writing memoir. I became a professional writer, and now I write for a communications firm. But I finally figured out that what I really love is writing fiction. And then it took me a bit longer to get that fiction into the right shape. I've been writing all this time, since university. It's just taken a while to have a book in my hands.
AS: Can you tell us about the literary scene in Saudi Arabia today? Do you have any suggestions for other Saudi or Saudi diaspora literature?
EQ: There's not much in translation, but English speakers can find Wolves of the Crescent Moon by Yousef Al-Mohaimeed, Girls of Riyadh by Rajaa Alsanea, and The Dove's Necklace by Raja Alem.
The literary magazine Jahanamiya features work by Saudi women in English and in Arabic.
If you want to read Saudi American writers, try Majda Gama's beautiful poetry and Jameelah Lang's moving fiction. And here's a lovely essay by Jasmine Bager.
AS: Do you have any advice for aspiring literary fiction writers of Muslim heritage?
EQ: It's more of a pep talk than advice: Keep writing. I want to read your book.
AS: And now for the inevitable final question: What are you working on now?
EQ: I'm taking a bit of a break until after my book comes out. When the hubbub dies down, there are a few projects I've got in mind. One's a middle-grade historical novel and the other is an Arab American Hollywood novel.
Alice Stephens is the author of the novel Famous Adopted People, editor of Bloom, and a book reviewer and columnist for the Washington Independent Review of Books.
Photo by Andrew Chen