by Andy Shi
Thirty years ago, thirteen works of art disappeared from the Isabella Stewart Gardner Museum (ISGM) in Boston, including paintings and drawings by Vermeer, Rembrandt, Degas, and Manet. In Carol Orange's debut crime thriller, A Discerning Eye, art gallerist and ISGM docent Portia Malatesta endeavors to hunt down the missing artwork, these treasures of her idol, Ms. Gardner, and more importantly, mementos of her late father and brother. How many hours had she and her brother, Antonio, an artist himself, spent admiring Vermeer's The Concert in the ISGM Dutch Room? It was their father who inculcated their shared love of the fine arts.
A Discerning Eye is a masterclass in art history as Portia parlays her eye for technique and form into forensic psychology. When the police are looking at Boston's Italian and Irish mobs, it is Portia's contrived profile of the thief based on the stolen artworks' shared treatment of light and dark that brings her to the attention of the FBI and breaks the case wide open. Convinced that Portia is onto something, they send her down to Colombia to befriend the wife of the suspected mastermind and ingratiate herself into their home where the artworks are suspected to hidden.
Yet, it is not only the drug-and-crime fueled dangers of Medellin's which Portia must navigate. In her way are the sexist attitudes of the FBI, the doubts of her husband, and Portia's own empathy. In ways, the mastermind of the heist and his wife are as kind as they are flawed.
Guiding us through these portraits of art, crime, and the streets of Medellin is Ms. Orange, our own docent, who in past lives has worked as a research editor of art books and a gallerist, much like her protagonist. Today she manages an Etsy store selling vintage posters featuring many of the artists she once represented.
In our interview, I spoke with Carol about her path from the visual arts to the literary, sexism in the art world, and her own theories on the infamous ISGM heist.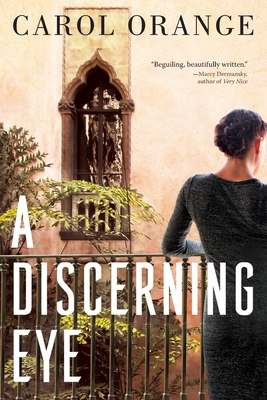 Andrew Shi: Most theories on the Isabella Stewart Gardner Museum art heist identify the Irish mafia as the culprit. How did you land on the Medellín drug cartel for your novel's antagonist?
Carol Orange: I chose the Medellin cartel for two reasons: The first is that I used to travel there when I worked for Polaroid and thought Medellin and Colombia were exceptionally beautiful. The people I worked with were so cordial and welcoming. When I learned all that changed because of the drug war (I was no longer traveling there by then) I was horrified. Criminal elements had taken over the culture. I modeled Don Pedro Martinez after Pablo Escobar, although there are also some differences.
The other is that one of my favorite writers is Gabriel Garcia Marquez. His book News of a Kidnapping captured just how frightening it was in Colombia. He was born in Colombia, but he left his own country to live in Mexico.
The sum of these experiences left a lasting impression which inspired many of the elements of Discerning Eye.
AS: What do you make of the stolen eagle finial and Chinese gu among the more prominent artwork? If you had to place a bet on the real culprits, whom would you name?
CO: I suspect the eagle finial and Chinese gu may not have been on the mastermind's shopping list. It seems these two art objects were taken spontaneously by the thieves because they were located near the stolen art. However, art thieves sometimes use small pieces like this to show potential buyers in the gray market (a wealthy person selling to another wealthy person so that the art never goes to auction or becomes public) that they have physical proof the stolen art is in their possession.

It is difficult to know who the real mastermind is because the Gardner Museum has an international following. The mastermind could be either a local person or perhaps a foreigner with a Boston connection. Last March I read an article in the Boston Globe written by the reporter Kelly Horan. She investigated the unlikely friendship between Anthony Amore, the current Director of Security at the Gardner Museum and Myles Connor, a local art thief who is now out of prison. It seems that Amore hopes Connor will help him find the stolen art. Connor claims to have known the henchmen involved, but it's clear from the interview that he's a cagey character.
AS: The breakthrough in the fictional investigation for the missing artwork comes when art-dealer-turned-sleuth Portia Malatesta identifies the thematic contrast between light and dark in the paintings. The contrast reveals the moral conflict that the heist mastermind, Carlos Alfonso, feels regarding his participation in the drug trade. It is also a dichotomy thematic to the story, where even the villains possess redeeming traits. Do you forgive Carlos—and perhaps, by extension, the real thieves—for their heists? Should we?
CO: While Carlos Alfonso may have some good qualities as a father and husband, he should not be forgiven for committing this crime. His greedy desire to own the paintings deprived Gardner Museum visitors of the pleasure of seeing them. Theft is a crime and theft of this magnitude is a huge crime. The thief needs to be punished. Otherwise, no museum is safe. 
AS: Surrounding Portia is a cast of men, many of whom—including her husband—doubt her ability to find the missing paintings. Leaving aside the male-dominated intelligence services, have you found sexism to be rampant in the art world? Can we read the doggedness of Portia and her idol, the grand Isabella Stewart Gardner herself, as a reflection of your own journey?
CO: While it's true that most of the leading art dealers in the modern art world are men, there are some notable exceptions such as Peggy Guggenheim who built a magnificent modern art museum on the Grand Canal in Venice, and to a lesser extent, Mary Boone in her New York heyday. Boone represented bestselling artists Jean-Michel Basquiat, Barbara Kruger, Eric Fischl, Ross Bleckner, and Brice Marden and helped propel the prices of their work into the art stratosphere. Unfortunately, Boone was arrested for tax evasion in 2019, and her galleries closed. 
Yes, Portia and Isabella Gardner's doggedness in collecting art is a reflection of my own journey as an art dealer. Aside from investing in old master paintings, Isabella supported outstanding contemporary artists of her day: John Singer Sargent, Anders Zorn, and James McNeill Whistler.  Developing a discerning eye requires focus, commitment, and an openness to innovation. I spent many years spending time at galleries, museums, and auctions to learn about art. I also read art books and magazines. Every year I made sure to spend a few days at the Basel Art Fair. I also exhibited my artists' work at the Grand Palais in Paris.    
AS: Can you tell us more about your path from the visual arts to the literary and the process of writing your first book? What advantages did you find in waiting to write and publish after having established yourself in another career?
CO: Owning a gallery and sourcing fine art internationally was very challenging. It required discipline, commitment, persistence, and a certain willingness to take calculated risks. I applied those same skills to writing my novel. I'm an avid reader and have been writing most of my life, but the craft of writing a novel took time to learn. I created an outline, attended many writers' workshops, and belonged to a writing group at the New York Society Library where my submission was critiqued every month. Writing fiction requires knowing when and how to revise.
AS: And going back further, how did you become so passionate about the fine arts? Do you have a preferred period of painting? If so, what do you admire about these artworks and do you think their qualities reflect your own personality as the chiaroscuro of Vermeer reflected Carlos's?
CO: I studied both English literature and Art History at Cornell. After graduation I worked as a research editor on a book of Spanish Art in London where I met Xavier de Salas, the future Director of the Prado Museum in Madrid. While I lived in London, I frequented the Courtauld Institute, the British Museum, The National Portrait Gallery, as well as many galleries. I adore the medium of collage, especially the work of Kurt Schwitters and Joseph Cornell. Cornell's boxes are visual poems.  I'm most attracted to the Expressionist Movement (an artistic style in which the artist seeks to depict the subjective emotions and responses that objects and events arouse within a person). Amedeo Modigliani, Chaim Soutine and Vincent van Gogh are my favorite artists of this period. But I also appreciate some of the German artists that Hitler deemed degenerate: George Grosz, Otto Dix, and Max Beckmann.
AS: As a Bostonian myself, I've been to the Museum of Fine Arts and Isabella Stewart Gardner Museum several times now. What museums and galleries in the area have I been overlooking?
CO: The Isabella Stewart Gardner Museum is the jewel of Boston art museums while the Museum of Fine Arts is one of the leading international museums in the world. However, the Harvard Art Museums in Cambridge, which include the Fogg Museum (established in 1895), the Busch-Reisinger Museum (established in 1903) and the Arthur M. Sackler Museum (established in 1985) have impressive collections. The Institute of Contemporary Art (ICA), located along the water in the South Boston Seaport district, offers an innovative contemporary collection and some eye-opening shows.
AS: Thank you for that, and apologies to our readers who live nowhere near Boston.
Lastly, your next book will feature Portia attempt to recover artwork stolen by the Nazis. Do particular artworks inspire this plotline, too? When can we expect the sequel? 
CO: I've begun writing my second novel and am about half-way through the first draft. This story is more about the characters than the Nazi-stolen paintings by Anselm Feuerbach, Jean-Francois Millet and three Rembrandt drawings. The narrative revolves around a German-American family. They hire Portia and ex-FBI agent Julian Henderson as private investigators. After helping to resolve some family squabbles about whether or not to pursue their patrimony, Portia and Julian travel to Germany. They become immersed into the daily life of Haigerloch, a small town near Tübingen where some of its inhabitants are eager to help them find the art that belongs to their clients while others are committed to obstruction. I hope the second book will be published in two to three years.
Andy Shi is a recent graduate from the Columbia University-London School of Economics dual MA/MSc program in International and World History.
Author photo courtesy of https://www.carolorange.com.