by Martha Anne Toll

Michelle de Kretser is the author of five novels, including the Miles Franklin Award winners Questions of Travel and The Life to Come—the latter also won the Christina Stead fiction prize—the Man Booker Prize long-listed The Lost Dog, and a novella, Springtime. Her second novel, The Hamilton Case, was winner of the Tasmania Pacific Prize, the Encore Award (UK) and the Commonwealth Writers Prize (Southeast Asia and Pacific).
De Kretser was born in Colombo, Sri Lanka. Her family emigrated to Australia when she was a teenager, and she was educated in Melbourne and Paris.  From 1989 to 1992 she was a founding editor of the Australian Women's Book Review. As an aspiring novelist, she worked as an editor for Lonely Planet travel guides, and while on sabbatical from that job, she wrote her first novel, The Rose Grower, which was published in 1999 when de Kretser was 42 years-old.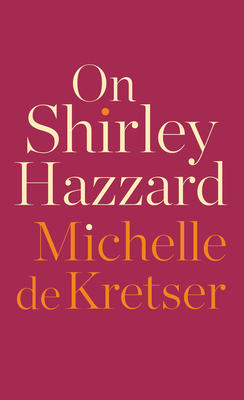 In her most recent book and first work of nonfiction, On Shirley Hazzard, de Kretser "celebrates the precision and musicality of Hazzard's prose and illuminates the humor and humanity in her work …This testament to her sustained engagement with Hazzard's work is, at its core, an appreciation of the significance and joy of good fiction."  The book began as a long essay for Black Inc's Writers on Writers series. Sydney-born Shirley Hazzard published short stories in The New Yorker for decades, beginning in 1961, and is perhaps best known for her bestselling and National Book Critics Circle Award-winning novel, The Transit of Venus (1980).
De Kretser lives in Sydney with her partner, the poet and translator Chris Andrews. She is an honorary associate of the English department at the University of Sydney.  Bloom contributing writer Martha Anne Toll had a chance to interview the author about her work.
*
Martha Anne Toll: You've worked in various aspects of the book industry. For readers who are just getting to know you, would tell us how you came to writing?
Michelle de Kretser: I've always been a reader. I'd studied and taught literature at university and gone on to work as a reviewer and an editor. Throughout my life, I've looked for ways of hanging around books.
Finding myself dissatisfied with the publishing work I was doing in 1998, I took a year off to give myself a chance to look for other work. While I was sending out my CV and approaching prospective employers, I began to write a novel. It's hard to believe, but for a long time I didn't realize what I was doing. For the first couple of months, writing was just something to fill in time while I waited to hear about other kinds of work.
With hindsight, I can see that if I'd sat down with the intention of writing a novel I probably wouldn't have – it would have seemed too daunting. I had to trick myself into words.
MAT: Are there themes that run through your writing?
MdK: I'm interested in the collision between the self and history – i.e. in the way the events and values of a particular period are manifested in character. That means I'm interested in change: how times change, and what that means for individual lives.
MAT: How does the experience of being an immigrant inform you work?
MdK: You know, I've read many, many interviews with Shirley Hazzard, who emigrated from Australia to the UK and subsequently to the US, and no one ever asked her that question. Her work is cosmopolitan, transnational, deeply concerned with the experience of outsiders. But this is a question only put to migrants of color.
MAT: You make such an important point!  Thank you for bringing that out. How do you engage with nonfiction, and how, and how often do you write nonfiction?
MdK: On Shirley Hazzard is the only literary nonfiction I've written.
MAT: How does your fiction inform your nonfiction?
 MdK: This seems to be a question for a reader or critic rather than for me. All I can say is that writing the essay on Hazzard felt completely different to writing fiction. It didn't involve my imagination – I didn't have to make anything up.
MAT: Shirley Hazzard is a very special writer. Without spoilers, or taking up this space with a re-hash of On Shirley Hazzard, can you tell us about how you came to her work and what it means to you?

MdK: Almost forty years ago, well before I wrote fiction, I read The Bay of Noon, Hazzard's second novel, was entranced and set about reading everything else she'd written. At the time, I had read very little Australian fiction, and that little was focused entirely on Australia. It thrilled me to find a novel by an Australian writer that looked outwards.
Now that I'm a writer, Hazzard is one of those who reminds me that literature matters. Her fiction is wise, compassionate, funny and devastating. Her sentences are extraordinary. J M Coetzee says of the nineteenth-century Russian novelists that "they fortify one's arm."  Hazzard's work fortifies mine.
MAT: What advice do you have for authors who want to write about other authors?
MdK: Marketing rules our age, and writers are constantly called on to spruik our own work. It was joyful and soul-cleansing to have the opportunity to think instead about another writer's fiction, and try to communicate what makes it admirable.
MAT: The bulk of our readers are American.  Can you discuss the Australian "literary scene" and compare or contrast with writing in America?
MdK: I know almost nothing about literary scenes anywhere. The greater part of my days are spent alone in a room.
MAT: What other writers do you admire, and how have they influenced your work?
MdK: I admire dozens of writers and hundreds of books. Any great novel is encouraging because it affirms the value of literature and the worth of trying to create it. As for how /if particular writers or books have influenced my work – again, that's a question best answered by others.
MAT: What other projects do you have in the offing?
MdK: I'm trying to write a novel.
Martha Anne Toll's nonfiction has appeared in The Millions, NPR, Heck, [PANK], The Nervous Breakdown, Tin House blog, Bloom, Narrative, and Washington Independent Review of Books; her fiction in Vol.1 Brooklyn, Yale's Letters Journal, Slush Pile Magazine, Poetica E Magazine, Referential Magazine, Inkapture Magazine, and Wild.  Her novel in process, represented by the Einstein Literary Agency, was short listed for the 2016 Mary Rinehart Roberts fiction prize. She directs a social justice foundation focused on preventing and ending homelessness and abolishing the death penalty. Please visit her at marthaannetoll.com; and tweet to her @marthaannetoll.
photo credit: Michelle de Kretser via The Australian